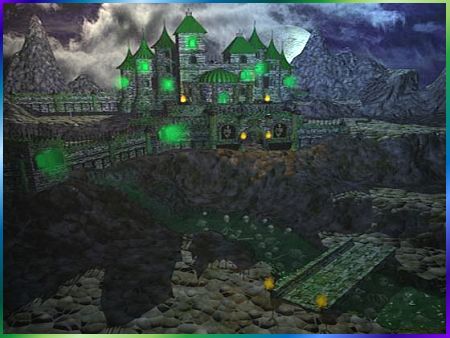 "From the skies, death comes... and, in the last second of your life, the Dark Prophecy is revealed to you... too late...!"
Magic is an important part of Disciples. Magic can be devastating and frustrating in Disciples : Dark Prophecy. It was even worst in Disciples : Sacred Lands in which most of your strategy was based on avoiding the long range spells of the enemies. Servant of the Dark and Guardians of the Light are in a middle position, long range spells are back but not the so devastating ones. But still, you never know when and where your main leader will disappear under the combined effects of two or three long range spells. Your favorite leader is the King of the Sacred Lands and oups !... he suddenly disappears... and gone are your dreams of conquering the Sacred Worlds...
Magic knowledge is necessary to survive in Disciples. Magical items and artifacts can transform a hard to win battle in an easy one. Magic and magical items can double your protection or your force, immune your troops to attacks based on magic or weapon and heal your troops. Don't underestimate it, you need it.
The resources are at the center of your strategy if you want to conquer the lands and achieve your missions, you must use them to your advantage.
Gold! Mana! You must find the gold and mana mines!
Pieces of gold! You must sell your valuables!
Runes! You must decipher them!
Special and magical items! You must find them!
Without resources and the keys that will open sealed doors or move mountains, your quest is doomed to fail!