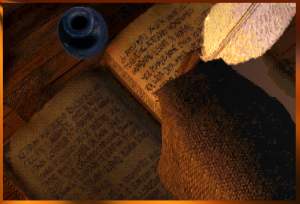 "The gates of Hell have been sealed, and the four races have staggered, bloody but victorious, to their respective homes. They are greeted by ruins, for the war has savaged the land."
The little that is known of the terrible calamities of Nevendaar comes down to us in the writings of a poor but literate monk named Illuthen. His History and Songs, believed to be written during the period just prior to the events chronicled in Disciples II : Dark Prophecy, are the only surviving history of this period. From his words, we have been able to assemble a vivid picture of that Dark Age.
Bethrezen is dying... A decade ago, the first great wars had spread blood throughout the lands. The Mountain Clans were slaughtered, half of their realm fled behind their great runic portal; the others driven mad at the fear of Ragnarok, for in their dreams they saw their own dark faith. The Empire was governed by an evil monarch. He mourned the lost of his beloved queen. The children of the Empire sings death songs. An Empire without an heir can only pretend to chaos.
"Ten years after the First Great Wars ended, even though there have been a few minor conflicts, for the most part there has been peace in Nevendaar, but now that is about to change... and you know that sooner or later you will have to face Uther..."
"Ten years later... The threat is more real than ever... The battle of the gods continues... The dark prophecy is still haunting your dreams..."