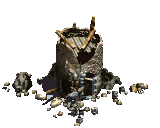 The neutral cities are strategic, your will have to capture a few. A level 5 city is better protected and is more difficult to capture. You will be able to heal your troops and buy new units in the cities. Capturing cities increases the amount of land your race transforms every day and you will get the neutral mines that are around them. You will also be protected from long range spells if you can finish your turn in a city. A city can not be capture by thieves and summoned creatures, one of your leader has to move into it.
In Disciples II, the Elves have their own city, protected by the Queen Elf, be careful ! Now, the neutral races can also capture a town and settle in it their headquarters. An Orc King with a black dragon that had captured a town will not give it back without a real fight.
You will also find in the next pages the training camps where you can train your troops in exchange of tons of gold ; the ruins where you can get gold and magical items... beware they are often guarded or inhabited by neutral races! If you survive spend the money in the training camps.
Had anyone realize that you need to fight to achieve the next level that you trained for at the camp and that you get the gold at the ruins after the training ? You badly needed the gold to train not after the training. There should be ruins around the training camps so we can get the money, train our troops and upgrade our troops.... all in the same turn. How often are we finding ourself at the door of a training camp without enough money? How often are we searching for a near enemy to upgrade our troops... we did spend a lot of money on them?
You will find the merchants where you can buy and sell potions, artifacts, scrolls and other magical items; the mage's towers where you can buy and learn spells and the mercenaries camps where you can hired units usually neutral.
Note that the merchant's shops becomes temples where the AI can heals if you choose this option in the editor in Sacred Lands. Now you know their little secret about healing and why they can heal so fast !!!
You will also find any other buildings or structures and a small description of the types of terrain encountered while traveling the Sacred Lands.