Rise of the Elves, Fall 2003, finally brings the Elven race to the players with the Elven Alliance. We get leaders, a new capital, new and old units, new spells and a saga with eight (8) chapters like the original D2, plus new neutral units and bosses. ROTE has the Wild and the Noble Elves and their god is, guess who!, Gallean, for good or revenge. Anyway, everybody knows that I am not a fan of Gallean. This said, ROTE is a plus for the long time players with new characters like the classy Dark Elves, new attacks like critical strike and blister and new strategies. We follow the story from the point of the Noble and/or the Wild Elves. We get a new and real nice capital with animations like DSL. SFI is also talking about new events for the editor with huge official maps.
A nice addition is the classy Dark Elves as a neutral dark race, I would love to have them as a race. And, and if, you play the final chapter, you will start hearing rumors about Gromdok and the Greenskins.
The sagas from Disciples 2 : Dark Prophecy are included for the new fans, but not the sagas from Gallean's Return (SOTD and GOTL).
You get some huge original art concepts in black and white. Great coloring book to keep your kids busy while you are playing with your friends.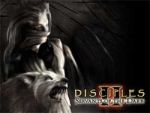 You can now send an electronic greeting or message to you friend directly from Strategy First Inc. E-Cards. Those cards representing Disciples' Heroes are real nice.